Why the Name Change from Puppy School Chichester to South Coast Dog Training School?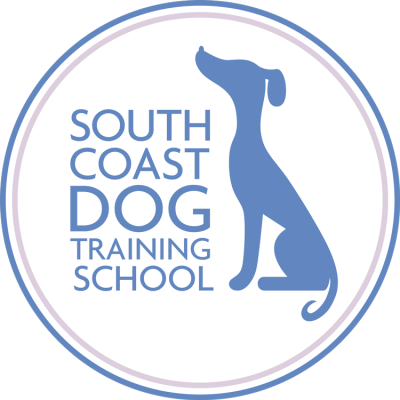 10 years ago I moved 100 miles away from Buckinghamshire to be closer to family in East Wittering and I also left my lovely job at Hearing Dogs for Deaf People. I got a job at Downland Veterinary Group still within the animal industry and to fit around my daughter Lauren who was 3 years old at the time. I threw myself into my new job but I missed working with dogs and teaching people, wondering what I could do to work with dogs again and I found Puppy School and there were no trainers in my area so I contacted them and got excepted and started my training.
Starting Puppy School Chichester
In May 2013 I was ready to start my first puppy class. It went so well the whole class wanted to do more and I had to quickly write a follow on course. Chichester classes were popular and filled quickly and I started to get the Puppy School Chichester name out. Working at the vet's meant I met potential clients and business grew nicely and in 2014 I became pregnant with my daughter Isla. With no other trainers to cover my classes, I carried on 39 weeks pregnant and went back to class 2 weeks after giving birth. However, this wouldn't be possible without my assistant Nicky Nevers who did all the things I couldn't physically do and I will be forever grateful. Nicky moved on to concentrate on her own dog Izzy with agility and the show ring but she was a fantastic trainer and there will always be a place for her.
The next year 2015 was a blur really juggling newborn, Lauren, vets and Puppy School but loving your job you make it happen. I started noticing clients were coming from Emsworth and decided to expand to Eames Farm, Thorney road. I met Louise Yden in my first Emsworth class noticed her excellent handling skills and after chatting to her said she would love to join the team. Louise has been with me ever since and now runs Emsworth and Westbourne. She is also my right-hand woman, she is the reason I can now go on holiday and not worry as she holds the fort. Clients do get confused about which Louise they have though but they get by and we look completely different. I am the blonde one and Louise has curly brown hair.
Puppy parties
Still at the vets I had reduced my hours and started to do and take over puppy parties for Downland Veterinary Group. Managing social sessions and guiding new puppy owners about their new puppy. Having a dog trainer do a these session works well as I can answer all training questions and help clients learn about body language and how to help gain their confidence.
Expanding Venues
Living in The Witterings I wanted to start classes in the Peninsula and also offer daytime classes, this worked well and have my long-standing clients in these classes keeping me on my toes and making me want to keep learning new things to be able to pass onto them. I do about 3-4 weeks of training expanding my knowledge and training tasks each year and love sharing new ideas with my clients.
Outside Venues
Myself and Louise have always wanted our own outside space and this came about in 2019 getting our own field in Chilgrove for workshops and then getting a space at another secure field in North Mundham for social walks in a secure place and something I have always wanted to offer.
Katie joining the Team
Katie contacted me as she had moved into the area and was already Puppy School trained living in Portsmouth and no classes there yet, Katie joined the team and now runs Portsmouth classes and is one of my senior trainers.
South Coast Dog Training School
With all the new venues and the different classes we run how could we be called Puppy School Chichester anymore. The thought of changing our name scared me but with the help of my business coach Andreas Nest we decided to change the name. After what felt like weeks, we finally agreed on the name South Coast Dog Training School and the strap line being Home of Puppy School Chichester. With the ever expanding venues, the team has as well. Myself, Louise, Katie my senior trainers, we also have Cheryl trainee trainer and my lovely volunteer assistant trainers, Sue who assists Emsworth, Beth who assists Chichester, Jade who assists Westbourne and Liv who assists Portsmouth.
I'm excited with the new business venture offering our clients more and showing clients kind and gentle dog training methods for the loving family companion.
Louise Williamson
Head Trainer
South Coast Dog Training School
Dog Training School - Dog Training Portsmouth