Louise Williamson - Head Trainer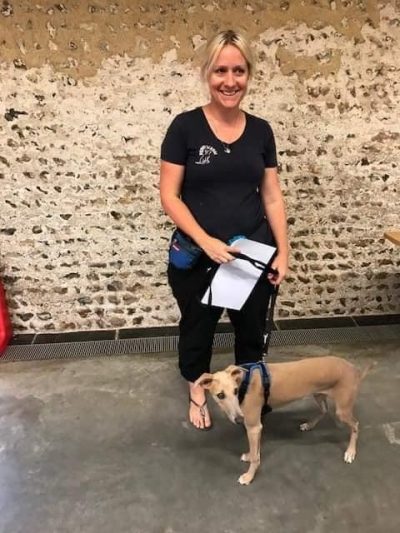 I launched Puppy School Chichester in May 2013, this quickly expanded to Emsworth and grew and grew and now in 2023, there are 4 venues.
With all the venues I decided it was time to change the name to go with the growth of the business to South Coast Dog Training School.
Before Puppy School, I began my career in the assistance dog world at Hearing Dogs for Deaf People in Buckinghamshire. After the birth of my daughter Lauren we decided in 2012 to move to Bracklesham Bay to be closer to family and I got a job at Downland Veterinary Group Chichester.
Although I enjoyed the vets, I missed training dogs, so I decided to set up a puppy class in Chichester. I wanted to be qualified with a well-known organisation in the pet dog world, so started my training with Gwen Bailey's Puppy School. After completing my course I set up my first class in May 2013 and soon after this I started bronze and more classes.
Up until September 2020, I worked at Downland Vets, Hounds for Heroes and South Coast Dog Training but decided to take the plunge and concentrate on my own business and the many wonderful families we help. It was actually Lockdown that helped me make the decision as working 3 jobs was getting harder and felt it was the right time. In 2021 I began to offer more classes and packages doing what I have trained to do but never had the time to do. Watch this space as we always have some exciting courses coming up! Currently I teach Puppy School, Bronze, Silver, Gold, Scent classes, Workshops, and also I do 1-1's as well. I also mentor assistance dog teams for DogAID, Darwin Dogs and assess dogs for Asisstance Dog Assessors Association.
When I am not working, I am a wife to Dave and a mum of 2 beautiful girls Lauren - aged 14, Isla - aged 8. I also own a whippet called Chester - aged 5 and 3 pet rats. Living in Bracklesham Bay I love the beach and nothing beats walking on the beach first thing in the morning with Chester and last year I took up Sea Swimming and swim all year round. I love seeing my friends and having only moved down 11 years ago am often still in various parts of the country visiting them. I also enjoy keeping myself up to date with the most recent force-free training techniques and regularly attend workshops and courses throughout the year to continuously update my knowledge and methods and also a great opportunity to be with like-minded people as well.
Dog Training Chichester - Dog Training Portsmouth